Philosophy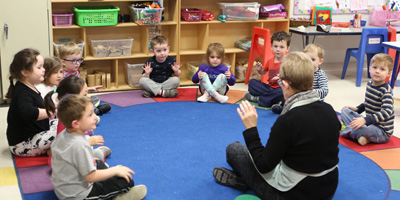 Sunshine Nursery School is a semi-cooperative preschool where parent involvement allows a growing relationship between the school and families. A child's life is enriched when families are engaged in their child's development. Sunshine promotes social and emotional health by establishing trusting relationships and respecting every child.
Our long term professional staff of low teacher to child ratio provides a safe, happy, well planned curriculum promoting social skills, self esteem and respect for each child's love of learning.
A PLAY-based curriculum provides experiences that contribute to a child's present knowledge and abilities that they will rely on when solving problems in the future. The well planned curriculum meeting individual needs of each child's developmental growth, gives a positive foundation for lifelong learning.
History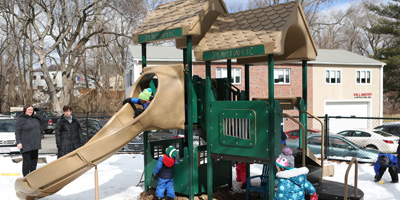 Sunshine Nursery School was founded by a small group of interested parents of the Unitarian Universalist Church in Arlington. The group felt a need for a cooperative preschool in Arlington, one in which parents and children could be involved together. In June of 1957, the school was licensed by the Office for Child Care Services and opened in September of that year.
For 56 years, the semi-cooperative preschool thrived at the church and in 1984 incorporated as a not-for-profit center.
Sunshine Nursery School is governed by a Board of Directors made up of the director of the school, directors of other child care centers in Arlington, an accountant, pediatrician, a lawyer and parents who have children attending the school or attended the school. The president, clerk and treasurer are elected from that group.
In 2014, Sunshine Nursery School purchased the first floor of the Sons of Italy at 19 Prentiss Road in Arlington and operates as a condo-trust. The new design was creative and continues to have two three year old classrooms, two four year old classrooms and a Pre-K classroom. A large gross motor space was designed for movement, enrichment programs and classroom activities. A large spacious fenced in playground with a climbing structure and sand box was constructed adjacent to the building.
Sunshine Nursery School celebrated our 60th Anniversary in September 2017.
Community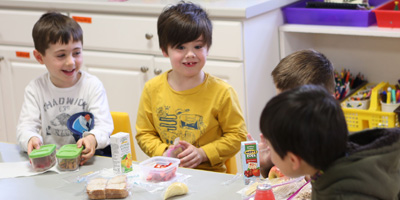 As Sunshine Nursery School draws children from several towns and many neighborhoods, we work hard to build community among our families. Picnics, Pizza Parties and Pot Lucks are regularly scheduled events enjoyed by all. Children are entertained by magicians, jugglers and puppeteers while parents enjoy chatting with parents, teachers and other families in a social setting.
Additionally, at several times during the year the school hosts informative evening sessions for families such as "Transitioning to Kindergarten" and "Making Nutrition Count."
Our Director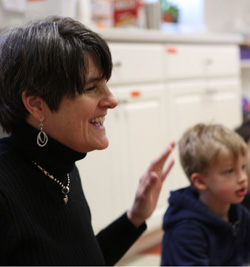 Jenn Eisenheim has been a teacher at Sunshine since sending her fourth Sunshine graduate off to Kindergarten in 2008. Mrs. Eisenheim attended DePauw University to study art and later completed her MA in Studio Teaching at Boston University. Ten years as an elementary art teacher in the Concord Public Schools cultivated a passion for painting, drawing and sculpting with young children, and a true appreciation of creative expression through materials exploration. She looks forward to doing special messy projects with the kids of Sunshine every year! When Mrs. Eisenheim is not at Sunshine, she may be found in her kitchen baking chocolate chip cookies or in the garden helping little things grow!