Our professional teaching staff for each of our programs have extensive experience in early childhood care.
Many of our teachers have been at Sunshine Nursery School for more than twenty years, and started as parents bringing their children to school. As their children grew up and moved on to elementary school, they found themselves reluctant to leave this warm, nurturing community! Our committed and experienced teachers are devoted to giving your child a positive and nurturing educational and social environment in which to thrive.
Threes Class
Mrs. Minniti


Lead Teacher, 3's

Having had her three children attend Sunshine Nursery School, Mrs. Minniti was thrilled to be offered a job in the three year old classroom. Mrs. Minniti grew up in Dublin,Ireland and attended college there studying early childhood care and education. Mrs. Minniti has worked as a preschool teacher for over 20 years and very much enjoys working with the three year olds and strives to provide a loving, caring and fun first experience. In her spare time, Mrs. Minniti enjoys being outside gardening and puttering around.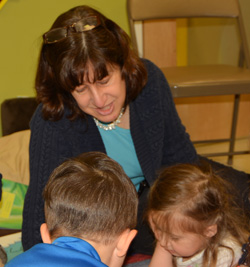 Mrs. O'Connell


Lead Teacher, 3's

Mrs. O'Connell has been working with children for over 30 years including almost a decade at Sunshine. As an undergraduate, she worked in her college's lab program (both the two year old and four year old classrooms), and volunteered at the school's daycare center. Her student teaching was in a kindergarten classroom where she was a frequent substitute. Mrs. O'Connell has a degree in early childhood education and is certified with the Department of Early Education and Care as well as the Department of Education Pre-K to Grade 3. Professionally, she has taught toddlers, three year olds, older fours, and Pre-K.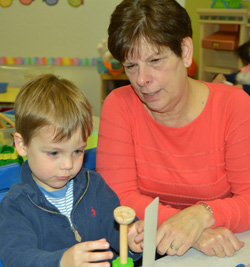 Mrs. Ellis


Teacher, 3's

Mrs. Ellis devoted many years to raising her six children while working in a pediatric practice. During this time, she donated a significant amount of time volunteering in her children's schools. When her youngest child began school, Mrs. Ellis decided to join the staff of Sunshine Nursery School. Since 2005, she has dedicated herself to the school in her role of enriching the lives of three year olds.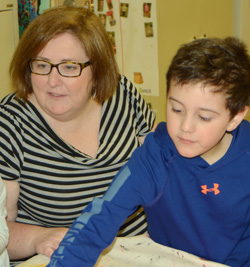 Mrs. Caradonna


Teacher, 3's

Mrs. Caradonna is the mother of three Sunshine graduates. As her children were moving on to elementary school, she was reluctant to leave their wonderful experiences at Sunshine behind. She was thrilled when a position opened up and she was able to start working in the older fours classroom in 2010. Mrs. Caradonna grew up in Rocky River, Ohio. She is a graduate of Colby College. Mrs. Caradonna has also worked as an entrepreneur in doll manufacturing and in Human Resources. In her free time she enjoys baking and decorating cakes.
Younger Fours Class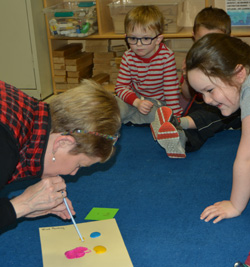 Mrs. Remeika


Lead Teacher, Younger 4's

Mrs. Remeika has a B.S. in Education, with a minor in Special Education, from Rhode Island College. Mrs. Remeika has taught at Sunshine for 30 years. Years ago, Mrs. Remeika chose Sunshine Nursery School for her son because of its reputation and the opportunity to help in the classroom. These days she delights in seeing her granddaughter continue the Sunshine tradition. In her spare time, Mrs. Remeika enjoys spending time with her family, walking, knitting and playing pickle ball.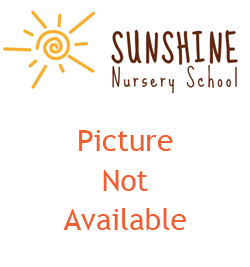 Mrs. Anastasio


Teacher, Younger 4's

Mrs. Anastasio has taught at Sunshine for over 30 years. Prior to coming to Sunshine, she worked and volunteered in the Arlington Public Schools. Mrs. Anastasio is the proud grandmother of three—all of whom have attended Sunshine. Mrs. Anastasio is an avid reader and loves to cook!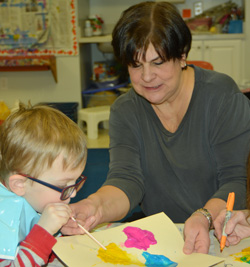 Mrs. Lepore


Teacher, Younger 4's

Mrs. Lepore is a lifelong resident of Arlington. She attended Fitchburg State University. After raising her children and volunteering in Arlington Public Schools and St. Agnes., she came to Sunshine Nursery School eighteen years ago. Her children attended Sunshine Nursery School. Mrs. Lepore enjoys spending time in Maine with her family during the summer.
Older Fours Class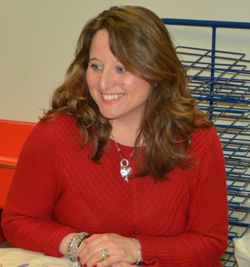 Mrs. MacGillivray


Lead Teacher, Older 4's

Mrs. MacGillivray has been working at Sunshine Nursery School in the older fours classroom since 2006. Mrs. MacGillivray has a Bachelor of Science degree in Elementary Education with a minor in Psychology. As an educator of children for over 20 years, Mrs. MacGillivray has worked and volunteered in the Public School system and was a teacher at Arlington Children's Center. Mrs. MacGillivray loves to sing, read, and celebrate the joy of incidental learning that takes place in the older fours classroom at Sunshine Nursery School.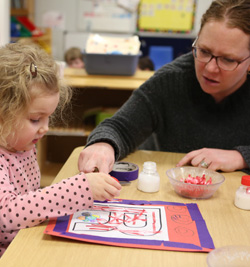 Mrs. Callahan


Teacher, Older 4's

Mrs. Callahan came to Sunshine initially as a parent seven years ago. After leaving an administrative position, she earned her BS in Education from Lesley University. She has a husband and three children, two of whom went to Sunshine and enjoyed their years here. The youngest will be coming when he is old enough! Mrs. Callahan brings her enthusiasm, love of creative dance through music and reading eagerly into her class.
Pre-K Class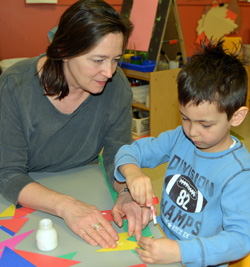 Mrs. Nicoloro


Lead Teacher, Pre-K

Mrs. Nicoloro found Sunshine as a parent in 1991 and never left! She is the mother of three Sunshine graduates and a teacher here for 18 years. She holds a BA from Norwich University and is certified through Cambridge College. Mrs. Nicoloro brings her passion and curiosity of the natural world to the classroom and encourages the children's creativity and imagination. When not in the classroom,Mrs. Nicoloro spends time cooking and caring for her growing family; exploring music, dance and art offerings, and visiting the rocky shores to the north.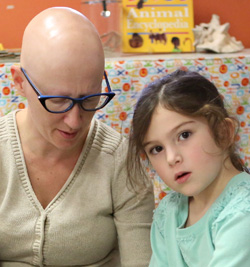 Mrs. Vincent


Teacher, Pre-K

Mrs. Vincent has been at Sunshine since 2014. She has two proud Sunshine graduates who are currently at the Brackett and Ottoson schools in Arlington. Mrs. Vincent has a Master's degree in Geophysics from MIT and brings her love of "learning how the Earth works" to our classroom. Mrs. Vincent loves to cook with our children and get them to try new foods. In her spare time, she enjoys reading and swimming.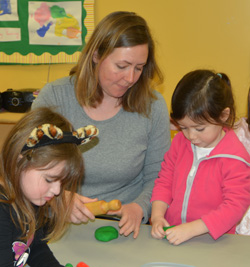 Mrs. Maltais


Teacher, Pre-K

Mrs. Maltais has been teaching at Sunshine since 2015 after sending both of her boys here. Her love for teaching began in the fields of Lexington Community Farm where each summer she teaches young children all about soil, seeds, plants, goats and chickens. Her time as a parent helper at Sunshine solidified her love for teaching young children and in 2016 she became a certified early education teacher. Mrs. Maltais brings her passion for nature and farm related activities to the Sunshine classrooms. Her favorite color is green and her favorite dinosaur is the stegosaurus.